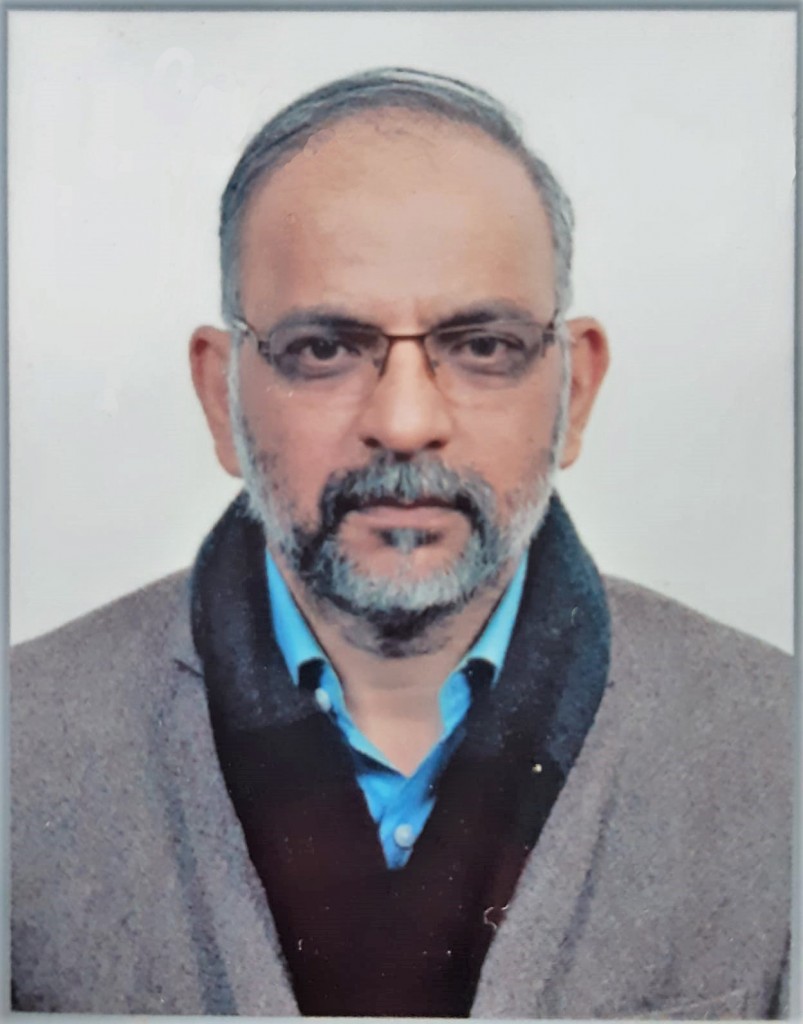 | | |
| --- | --- |
| Name: | Prof. Ajay Prakash Khare |
| Designation: | Principal |
| Qualification: | M.A. (Ancient History), D.Phil |
| Email: | principal@cmpcollege.ac.in |
| Mobile No.: | 9575683583 |
Principal's Desk
I am delighted to extend a warm welcome to a virtual tour of CMP Degree College, Prayagraj. Our College is a constituent College of University of Allahabad (a Central University), holding a unique multidisciplinary status funded under strengthening component of DBT Star College Scheme with 2.75 'B++' Grade in 2nd NAAC accreditation cycle in 2016.
A College which stands as the realization of the vision of its founder, Hon'ble Chaudhary Mahadeo Prasad since 1950 as paramount educational Institute in Prayagraj; contributing towards India's journey towards modernity and progress since past 73 years. I proudly sate that today, our College proudly ranks among the leading institutions, offering high-quality undergraduate and postgraduate education in the state and we have traversed a remarkable path since those early years. We have the privilege of admitting 6500 students annually for various undergraduate, postgraduate and Ph.D. programs in Arts Science Commerce and Law catering to the needs of approximately 15000 students.
"Education is a multifaceted journey encompassing character development, knowledge acquisition, and skill enhancement, all aimed at fostering lifelong learning and ultimately leading to a fulfilling and harmonious life. Our steadfast belief is that every student possesses an infinite wellspring of talent waiting to be nurtured. Through dedicated care and guidance, we aim to help students cultivate the right attitudes, values, and practices that will empower them to excel in their future endeavors. Our college's exemplary mission is to equip students with profound knowledge, wisdom, a passion for innovation, and the latest expertise in cutting-edge technologies, preparing them to confront the challenges of a highly interconnected global landscape. To achieve this, our college has forged strategic partnerships with universities, research centers, and industry leaders in India through Memorandums of Understanding, thereby facilitating placement-training programs. Additionally, we continually conduct various workshops, sessions, and skill development programs under initiatives like the DBT Star College Scheme, Institute Innovation Cell, IQAC, NCC, NSS, and offer a multitude of short-term certificate courses. These endeavors aim to acquaint students with the legal framework of our country and provide them with a holistic education experience."
The dedication and vision of our management, combined with the relentless efforts of our teaching faculty, are instrumental in driving continuous improvement at our college. This concerted effort ensures that every student graduating from our institution is well-prepared for success in their chosen paths in life. We aspire to see their desire to contribute to society grow alongside their personal happiness and prosperity. Our college takes pride in its comprehensive infrastructure, experienced and committed teaching staff equipped with advanced teaching methodologies, robust student and staff support systems, and an outstanding teaching and learning environment, all aimed at fostering the holistic development of our students. Our lush green lawns reflect our commitment to sustainable practices, as evident in our active pursuit of recycling and reusing resources. In this dynamic educational landscape, our primary goal is to empower our students to become competent, confident, self-reliant, and lifelong learners, poised to adapt to change. Our unwavering focus remains on student-centric learning."
Research forms an integral part of our educational approach, supported by well-equipped laboratories, ICT-enabled classrooms, seminar halls, and open spaces. Our outstanding library facilities include an extensive collection of reference books, national and international journals, and advanced digital resources. Additionally, our Central Research and Publication Unit plays a pivotal role in guiding both faculty and students in their research endeavors, including funding generation and publication in prestigious journals, resulting in grants exceeding Rs. 5 crores to date. Our faculty members are recognized nationally and internationally, often invited to conferences and workshops. We also actively encourage student participation in co-curricular and extracurricular activities to showcase their talents. Throughout their academic journey, our students engage in various outreach programs, enabling them to make a positive impact on society and the world.
As a testament to our commitment to excellence, our students have earned numerous awards and medals on various platforms. Our alumni, who serve as our true ambassadors, have achieved remarkable success in India and around the world. Their inspiring stories motivate us to strive for even greater achievements.
As a firm advocate of 'pragmatic education,' I enthusiastically align myself with the College's mission. My role here is to inspire effective performance while emphasizing that 'doing is learning.' I encourage students to engage in innovative projects, fostering a comprehensive and enriching learning experience. I firmly believe that problem-based learning, project-based learning, and experiential learning are the cornerstones of education, leading to more impactful learning outcomes. I introduce the concept of 'the 5Ps': Placements, Publications, Projects, Patents, and Participatory administration, as the key drivers to elevate our College's national standing. I extend a warm welcome to students from diverse regions to join our academic family, dedicating 3-5 years to acquire the latest knowledge and transform into informed individuals prepared for the future. I wish all our students great success and encourage them to take pride in being CMPians."
In conclusion, CMP Degree College is committed to maintaining its status as an institution of enlightenment. We will continue to push the boundaries of knowledge, foster critical inquiry, build democratic partnerships, and nurture an empowered community. The essence of the 'CMP spirit' is beautifully encapsulated in the words of the former President and visionary educator of India, Shree Sarvepalli Radhakrishnan: 'Education, to be complete, must be humane; it must encompass not only the development of intellect but also the refinement of the heart and the discipline of the spirit. No education can be deemed complete if it neglects the heart and the spirit.'
I extend my best wishes to you for a joyful learning journey."
Warm regards
Prof. Ajay Prakash Khare