6th International INSCR Conference 2021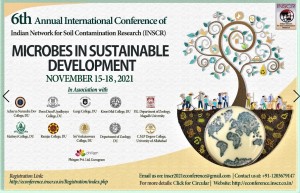 This year C.M.P. Degree College is jointly organizing the 6th International INSCR Conference 2021 in association with the Indian Network for Soil Contamination Research (INSCR) and ten others esteemed institutions of the country from 15th to 18th November 2021.
The central theme of the International Conference is, "Microbes in Sustainable Development" which is focused on direct relation to microbes playing a significant role in the soil as a critical component of the global natural system and as a vital contributor to human well-being.
For Registration and other details, please follow the link: http://econference.inscr.co.in/