Inauguration of a Seven-day interdisciplinary workshop on "Fundamentals of Biotechnological Techniques" jointly organized by the departments of Botany and Zoology under the aegis of DBT Star College Scheme
An interdisciplinary e- workshop jointly organized by the departments of Botany and Zoology, CMP College on the above-mentioned topic was inaugurated under the DBT star college scheme on 25th November 2020. In this workshop, the participants were welcomed by Dr Sanjay Singh, Convenor, Dept of Botany, CMP College. Thereafter, Dr Brijesh Kumar, Principal, CMP College gave his wishes for the successful completion of the workshop. Further, Dr Sarita Srivastava, Associate Professor and Programme Coordinator, DBT star college Project, gave detailed information of the programme schedule and also gave an introduction of the speakers for the day.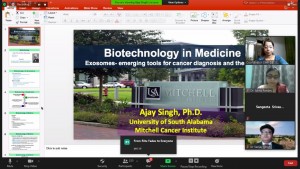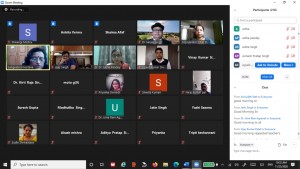 Dr Sangeeta Srivastava, Principal Scientist and Head, Division of crop improvement, ICAR-Indian Institute of Sugar cane research, Lucknow, chaired the inaugural session. In her inaugural address, she asserted that biotechnology has been immanent since ancient times. Our forefathers had unknowingly made use of biotechnology in the past in their everyday life. She also talked about the myriad possibilities of biotechnology in the field of agriculture, through which new resistant varieties of crops have been and can be developed. She also talked about the benefits of genetic engineering.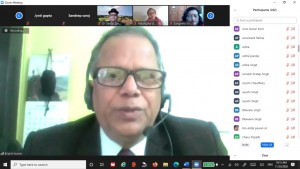 The keynote speaker Prof Ajay Pratap Singh, Director of Research, Department of Pathology, College of Medicine, Programme Leader, Cancer Biology, University of South Alabama, US delivered a fascinating lecture on biotechnology in medicine. He made the participants aware of the DNA techniques along with immunological and oncological insights. He further shed light on the RT-PCR and antibody test in the wake of COVID-19 crisis.
The first technical session of the workshop was chaired by Dr Uma Rani Agarwal, Coordinator Dept of Zoology. In addition, Mr Sujit Kumar Singh, Director, Cytogene Research & Development, Lucknow gave an outline of the experiments to be conducted during the course of the workshop. Mr Vishal Kr Maurya delivered an enlightening lecture on DNA isolation and also displayed its practical aspects.
The workshop was successfully conducted by Dr Neha Pandey and the vote of thanks was delivered by Dr Charu Tripathi. More than 200 students along with all the faculty members of Departments of Botany and Zoology enthusiastically participated in the workshop.