A SPECIAL LECTURE ON MATHEMATICAL MODELLING ORGANIZED BY THE DEPARTMENT OF PHYSICS
A special lecture was organized on "Mathematical Modelling" by the Department of Physics, CMP Degree College under the DBT Star College Scheme on 18th December 2020. The lecture was second the series of lectures under the scheme. The first lecture was delivered by Padmshree Prof. M.S. Sodha, former Vice-Chancellor, Lucknow University on "Hot Electrons" on 27th November 2020. And in the second lecture, the keynote speaker was was Dr. Nimisha Mishra, Department of Mathematics, Amity University. She discussed the various key characteristics of Mathematical modelling and explored the concept to the students in a very lucid way.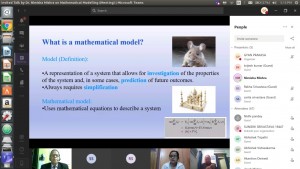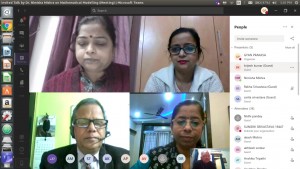 Dr. Sarita Srivastava and Dr Rekha Srivastava also addressed the students and described the various dimensions and scope of the concept. Dr. Brijesh Kumar, Principal of the College welcomed the guests and Dr. Rakesh Kumar proposed the vote of thanks. The programme was compered by Dr Gyan Prakash. A huge number of students and faculty members attended the lecture in online mode.